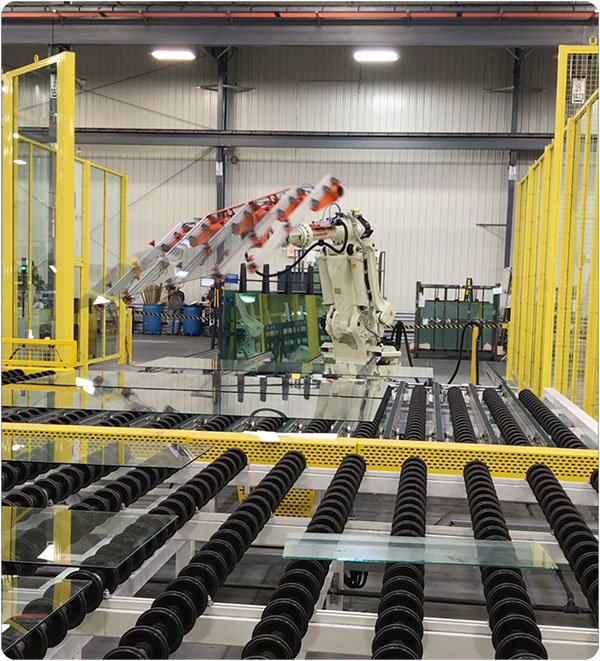 The Challenge
Our client came to us with the challenge to upgrade the WiFi, wired and location tracking components at their multiple million square feet custom glass manufacturing facilities. Not only that, but the facilities would need to continue to operate at full capacity during the build-outs.
This project includes working in and around operating lines without disrupting plant output. Some examples of the equipment online and running during the project were; glass tempering lines, glass cutting lines, automated sorting systems and framing lines. Our work also included maintaining existing connectivity while migrating to a new system.
The Evaluation
The manufacturing process relies on tracking and locating materials all the way through the fabrication process. This kind of tracking requires reliable and efficient WiFi. The old location tracking system had significantly deteriorated over the years. We found there were dead zones to deal with and inability to implement new features required by the business. Business needed the system to be more accurate and have greater functionality. We also discovered that a lot of the hardware was older than the first iPhone!
The Implementation
During the evaluation we discovered just how out of date and insufficient the existing system was. Not much had changed in the network in the manufacturing plant as technology improved. Our team of engineers needed to do quite a lot to make sure this manufacturing facility had full coverage networks and WiFi.
First, they defined network architecture standards in order to build-out a greenfield facility.
Next, they developed standards template for building out and improving current process control networks which includes connectivity to PLCs / HMIs.
During the build-out we planned training sessions for network architecture. The sessions focused on the isolated systems, like PCN. We conducted these sessions when we were already onsite to do surveys and validation surveys.
Our team added/replaced/augmented switching infrastructure to handle the load.
We replaced any device that was out of support. Typically these devices were 12-15 years old, at the time, some of these devices were older than the first iPhone! The devices were WLAN (APs, controllers) and location tracking system (RTLS).
Our engineers upgraded the location tracking system and validated the custom API.
This project included net new fiber cabling to upgrade all backbone lines to 10GB.
The Result
Our Customer let us know that the new network and installed WiFi measurably improved their business. They told us that the new technology easily paid for the cost of the network upgrades with the labor savings and additional automation mechanisms now available to them
Contact us to hear more about manufacturing wifi install!